– Opens for visitors 1 Maj 2020
"If you are in Mariehamn, a visit to Pommern is a must. To experience and with your own minds get to walk around in the well-signposted and well-documented ship awakens both imagination and curiosity."
Beneath the Badhusparken in Mariehamn's western harbor lies the Tall ship Pommern, which is one of the few tall ships left in the world in her class. She is still there, reminding us of Mariehamn's bygone times as home port for the large sailing fleets the shipowners in Åland once had.
The unique thing about Pommern is that it is still in its original condition as a cargo ship. Many of her sister ships remain, but all are more or less remodeled.
Pommern was built in 1903 in steel and tacked as a 4-mast bark. She was built in Glasgow, commissioned by the shipping company B. Wencke & Söhne in Hamburg.
She is 95 meters long and 13 meters wide. The height of the main mast is 50 meters and her depth is 7.5 meters. When all sails are set, they together amount to a total of 3240 square meters of sail area.
The crew on board generally consisted of 26 people. But trips with only 20 people on board were made. Especially from Australia because one and the other was seized by adventure and disappeared ashore.
Pommern was sold in 1906 and had two different owners during the years 1906-1923. After the end of the First World War, Greece received Pommern as a war price. The Åland shipping company Gustaf Erikson was told that she was for sale in the Dutch city of Delfiz and sent a ship inspector. The purchase was made almost immediately and Gustaf Erikson bought the Pommern from the Greek state for £ 3900. Even at that time it was quite a lot of money.
Pommern then sailed most of the route between England and Australia. With her total load capacity of 4050 tonnes, she was able to carry 49,000 wheat bags on average.
Wheat cutters at that time unofficially competed with each other. The Vetetraden or "The Grain Race" record was set in 1933 by the ship "Parma" with 83 days. Pommerns fastest journey she made on 94 days in 1936.
In 1939 Pommern makes its last trip from Hull in England to Mariehamn. She has since been lying in her home port with the exception of the second half of 1944 when she was towed to Stockholm to be a cereal warehouse there for a short time.
In 1947 Gustaf Eriksson dies and Pommern is put up for sale. Unfortunately, she requires major repairs and as the sailor's time begins to draw to a close, she is unsold. In 1952/1953 Edgar Erikson and his sister Eva Hohental decide to donate the ship to the city of Mariehamn.
If you are in Åland, a visit to Pommern is a must. Experiencing and having your own minds get to walk around in the well-signposted and well-documented ship awakens both imagination and curiosity.
There are countless photographs set with images from the bygone era when the ship crossed the great seas with whipping winds and high meters of waves … Together with our guide we dream away for a while and enjoy the wings of history …
Welcome to the tall ship Pommern!
More information about Pommern as well as opening hours and prices can be read here »
An article about "Linjedop på Pommern" can be found here (Swedish) »
Photo & Text: Björn Pettersson
Facts from: "Se Åland" and Pommerns website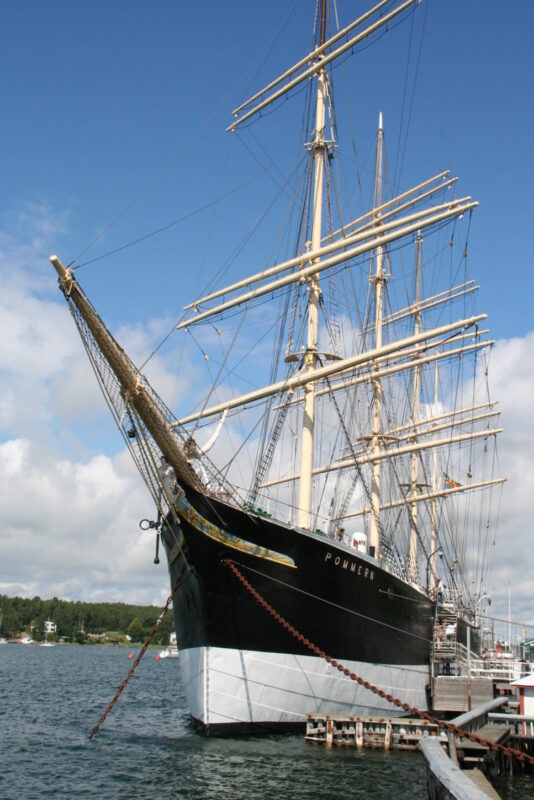 Facts about Pommern
Launched: 13 January 1903
Length: 89.18 meters in the waterline, 94.67 meters in total
Width: 13.21 meters
Depth: 6,2 meters
Sail area: 3240 m²
Speed: max 16 knots
Displacement: 3950 dwt
Radio signal: OHQW